Evolving in leadership can be a life-long journey. My friend Del Litke reminds me that often times nostalgia and amnesia mix together when recalling the good old days.  I think I have this story as best I can remember. All the boys in this picture are now officially in or hitting their 50's. That's enough to give my brain a jolt all by itself!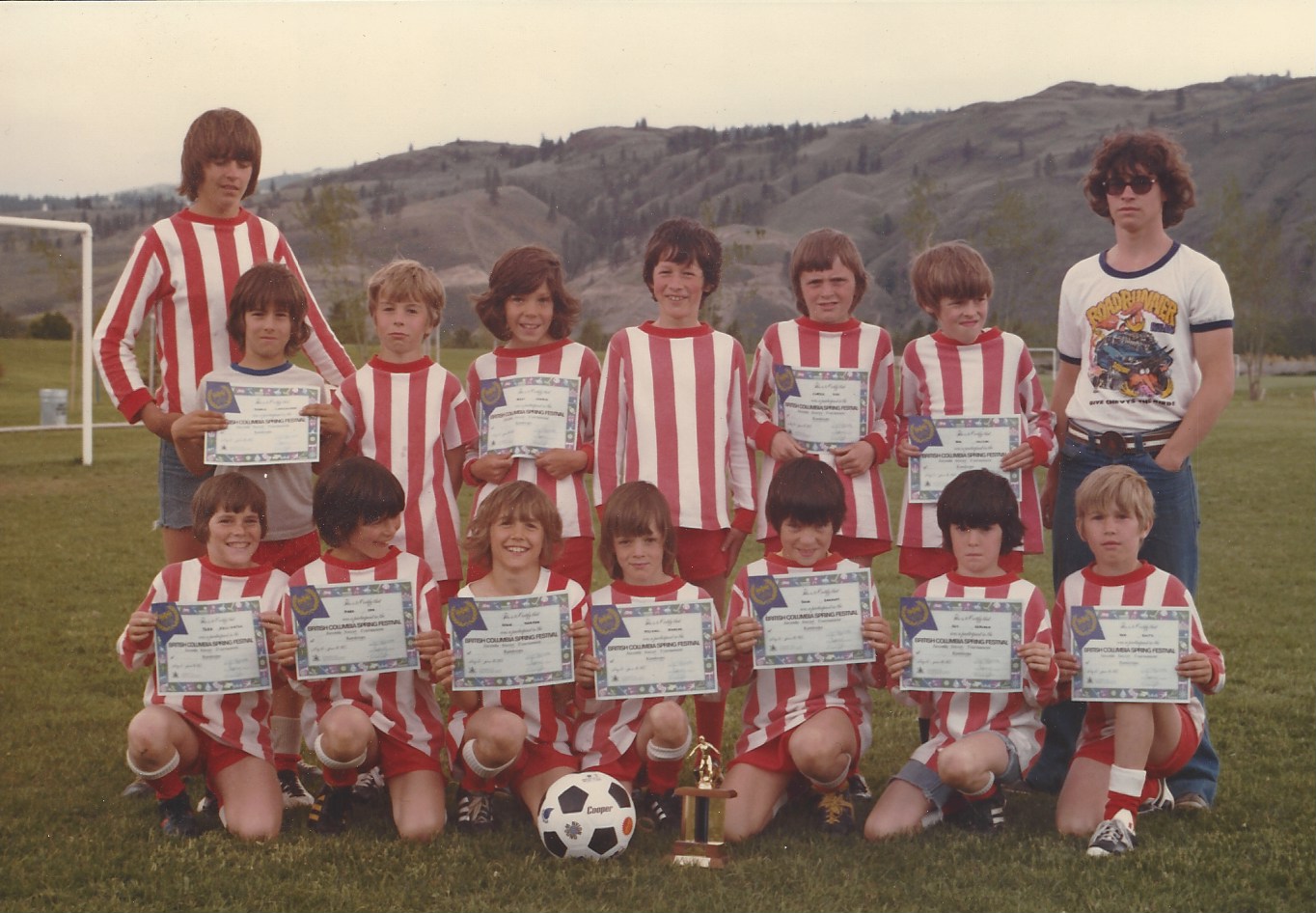 Leadership comes in many forms. There are a few sports stars that have had an impact on me. One in particular stands out amongst them. I consider myself lucky to have grown up in the city of Kamloops. It was a place of lakes and amazing skiing, fresh fruit, sunshine and laughter. I spent a lot of time on a soccer field and a lot of that time was with a special group of kids that included my own little brother, Michael and a young Steve Yzerman.
A good friend and I coached these kids together… a couple cocky young men without any formal training in coaching or leadership – just a love of being outside and a willingness to give back.
Stevie Y. was off the planet fast, even at 11 years old. He always had a huge grin on his face – infectious and authentic. The whole team was like that. Outside loving the sunshine and running like crazy doing what it took to win games. They won a lot of games.
I think my co-coach, Steve M, might say otherwise, but we didn't know a lot about coaching soccer. We knew a lot about running, we could kick a soccer ball, and we both had a lot of enthusiasm… but did we know how to coach soccer at a high level? Not really. What we had was a team of amazing kids with a number of good athletes, a few incredible ones and a whole bunch of kids that LOVED, loved, loved to work hard and have fun.
When a team included lightning fast kids, there were more than a few times that a goal would result because the ball was kicked down the wing and Steve or others would blaze down the sidelines and past the defenders. Steve was incredibly fast. When he caught up to the ball he made no mistake about where it belonged – either on the foot of a player rushing the middle or in the back of the opposing team's net. He had vision and speed and charisma – characteristics that all of us witnessed regularly as he went on to become an NHL legend and, at the time, the youngest NHL captain ever. He became iconic with the Detroit Red Wings, continues his role in leadership and his legend survives as I watch my own son cheer Detroit after years of brain-washing by his Dad.
Two soccer goals from those  early days stand out. The first was a pass to the head of my little brother who pushed it into the net. I was always hard on my little brother and probably never appreciated his own skill set in those days. Michael is a bit of a genius and he always approaches the world with humility and humour. I just ignored him or was harder on him than any other kid. Good thing he's forgiven me.
During this particular goal, Steve accepted and then passed the ball from his position on the right wing through a needle's eye of defenders and placed it so that my brother, a head taller than anyone around him, could strike it past the goalie. It's something you see a lot of in soccer – but not when kids are 11 and 12 years old. It would have made the highlight reel. Michael redirected away from all other players and into the only spot available. It was a perfect head.
The other goal that stood out was a shot from a corner kick. Steve was probably 12. There was a breeze that day and I remember Steve looking over at us as his coaches. His grin was gleaming and he jerked his head sideways to indicate that he wanted to curve it in. He was 12! Seconds later we were watching the ball banana curve untouched into the far back top corner with every parent in the stadium astounded and two coaches fist-pumping post-shot.
There were many great days with those boys. It was always fun. We laughed a lot, made them sweat like crazy, ran them and ran them because they were never going to be worn out before their opponents and, we won a lot of soccer games. In the middle of it was a team of kids that truly supported one another, that were humble, and unselfish, and classy. And that's the other side of this story.
I grew up in the boom times in British Columbia. Westsyde (with a y) was known as the wrong side of the tracks before things started expanding. Our soccer league couldn't match the teams from downtown Vernon and Kelowna. Their teams would show up in matching tracksuits with players' names sown on the back and every kid would have brand new cleats, their own team bag and personalized water bottle. Our team would show up in red and white striped shirts, a mish-mash of personal shorts of every colour  and more than a few wore the same running shoes they wore every day. The hand me down jerseys were worn out and faded and sporting the stains of a few years of half-time orange wedges squeezed past grins and drooled down chins.
We'd get some looks when we showed up to play. Coach Steve and I were sporting our long hair back then and we often wore sunglasses. I didn't really feel like we garnered a lot of respect when the opposition found out we were the coaches of the riff raff in red. We celebrated their underestimation.
So, what's this all got to do with leadership? First, albeit cliche, I think it starts with never under estimate your competition or the power of passion. Thirdly, use communication. The boys on the field were always talking to one another. Whether it was about where the ball should go or  the position of a defender or most importantly the positive cheers they would give to their team mates. Fourthly, leverage creativity. There were some passing plays that caused me to marvel. When you have a group of kids doing things with a soccer ball that demonstrated patience and precision, well that was just fun. These were very young boys understanding the unselfishness of a pass and the need for timing and communication.
There was laughter too – once when the opposition took a shot and had it bounce off the post, our goalie, Brent O., kissed the post and shouted "I'm in love!"
Finally, there's one more piece. Responsibility…
There's another kid that I have to apologize to. His name is Mike M. He went on to be a gifted athlete and a great soccer player. One time during practice, we were doing a "last man back" defensive drill" . We wanted to ensure that our goalie was never left without two of our players between him and the ball. Mike, being the consummate learner and star defense, asked what he should do if there was only one man back? I recall telling him to take a penalty if he had to. Well, you can guess the rest of the story. Mike was carded for tripping a player during one of our games. It was a flagrant foul stopping play and ensuring an offender didn't get past the last man. We pulled him from the game in what must have been an embarrassing moment for him. I can still see him looking at me in shock and shouting "but you told me."
Mike – I'm sorry.
That's how all these boys were.
Run a mile! They ran.
50 push-ups! They grunted.
100 ball hops! They jumped like rabbits. Pushing each other, laughing and determined while have a great time.
I had no idea the power my friend and I held as a coaches and leaders of an incredible group of boys. To a member, they took responsibility for their wins, their losses and their mistakes as a team. When Mike was yanked off the field, fellow teammates made a point of letting him know they were behind him. Pats on the back, a few positive comments, and Stevie Y., discreetly letting me know that he was just following orders.
Thanks boys – you taught me more than I taught you. The memories generated by the time spent with you are among my favorites. If you happen to be in the picture displayed above and it gets to you through this post, let me know how and what you're doing.
It would be great to hear from you.