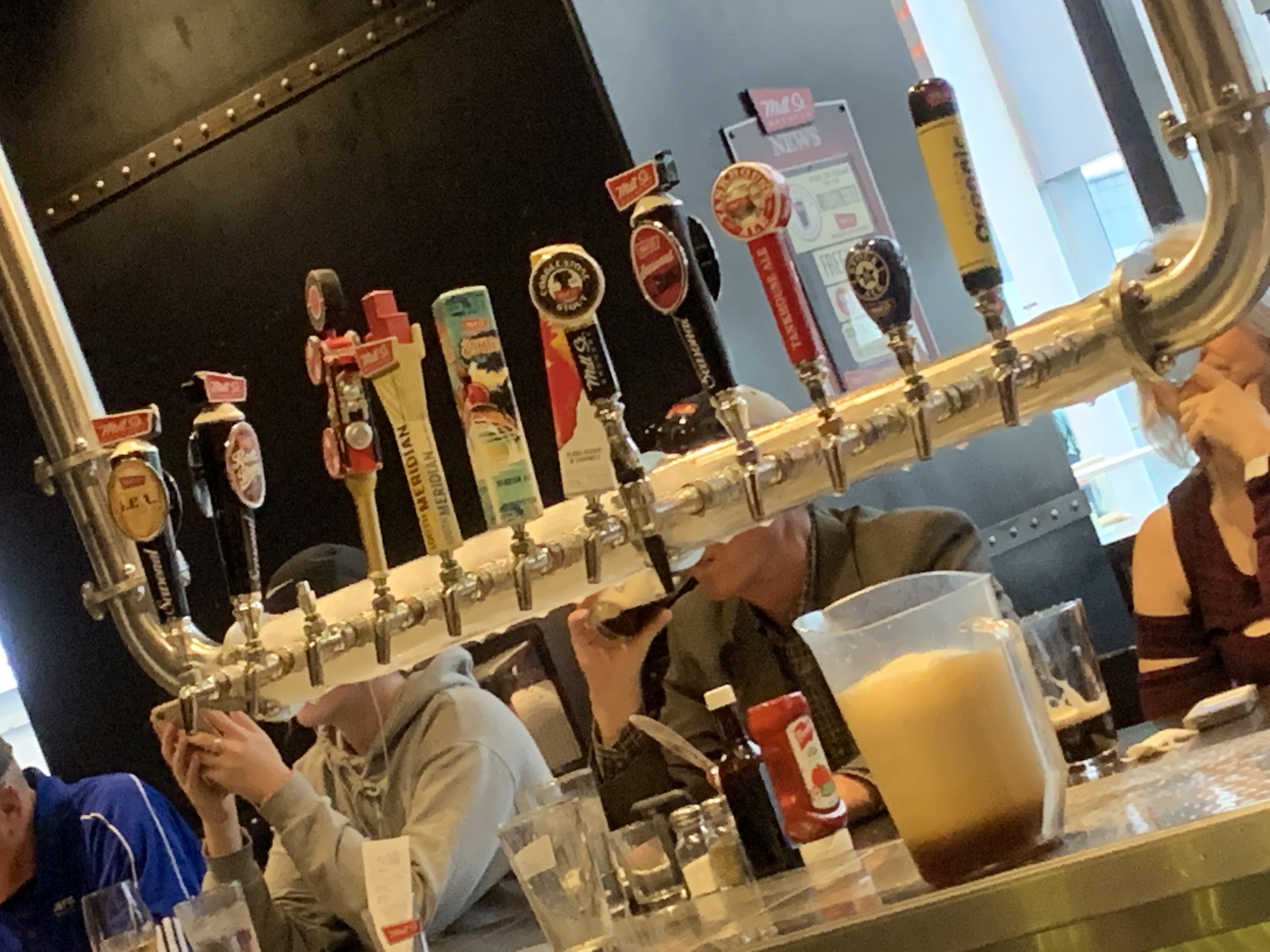 You've been there. Mill Street. Let's just say it's a place to drop your shoulders and wet your throat and watch some mastery of service.
Your spot may not be the Mill Street Pub in Toronto Pearson Airport, but, as I travel the nation, it is one of them for me. I look forward to going to this spot – Cobb Steak Salad and breaking my resolve to not have a beer lol. They shouldn't taste so good.
At this moment, I've had one more free taster than I should as I get ready to fly again – gluten free, dark toasty, orange flavoured IPA – they're all good and Keto can wait.
What I love about Mill Street Pub is watching the staff. They have one thing in mind – customer service. I've only been here twice in 6 months. Joe somehow remembers my name, seriously, talks about my fancy shirts and slides me another taster before he belts out a stanza of the tune slamming the speakers. He can sing too.
I'm watching the glasses that pass through the belt driven washer. Trust me on this – it doesn't stop. Sales are good.
So what's that got to do with leadership??
I was watching a video of school superintendent Joe (a different Joe) san Fellipo's vblog related to connections. He talks about what kids remember after years of being schooled. It ain't Pythagorean theorem, it's the experiences. Disclaimer- I did not initiate the water balloon fight on a ski trip where the kids camped in a school gymnasium when I was a teacher.
I think about my very best work – I'm still creating it. AND part of that is exemplifying what it means to create team. Kick ball games and crabfests – so much fun. When I wander away from any of the work I do to change culture or build highly effective teams, those folks don't talk about strategy or process… they talk about the good times.
So, short version, do them both. Work hard but make it fun. Kids are important. Important enough to build great teams AND retain them. Connect, build relationships, have some fun. Make memories while you make a difference. Build your own Mill Street. Kudos to the team at TPA – Joe, you're a natural.